Front Sight's Blog: Congress finally listening to us…
October 2nd, 2013
After Columbine, I was the first in the gun industry to align my sights on the right target and aggressively send my message through the Internet to our political leaders, telling them it was psych drugs, not guns that were responsible for the carnage.
With every shooting that followed, I aggressively made my point that the shooters were on psych drugs. Still, I was the lone wolf of the gun industry howling in the night.
When Obama tried to use Sandy Hook to ban all of our guns, I put my campaign to expose the REAL reason for all the mass shootings into overdrive and much to my appreciation, you all jumped in by forwarding my message. I began to see more and more people in America focusing on the right target as well.
And now I see that FINALLY, Congress is listening to us.
Check this out…
Congressional Inquiry Into Psych Drugs and Violence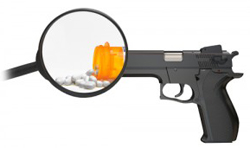 By Kelly Patricia O'Meara
September 30, 2013
Did psychiatric drugs cause the violent behavior of Washington Navy Yard shooter, Aaron Alexis? One Member of Congress has hinted at the connection and has stepped up to the plate to make an official inquiry into the gunman's psychiatric drug background.
U.S. Representative Miller (R-Fla.), chairman of the House Committee on Veterans' Affairs, apparently is savvy enough on the issue to tell a local Washington, D.C. radio station that "One of the medications that Alexis received does have a side effect that could in fact have been a problem." Chairman Miller has directed the Department of Veterans' Affairs to save all records relating to Alexis for review.
While it is extraordinary news that a federal lawmaker finally, at a minimum, is willing to consider that there may be a connection between the shooter's violent behavior and psychiatric drug "treatment," what is not known is whether Chairman Miller will stop at Alexis or look at the bigger picture.
The overwhelming data supporting a connection between psychiatric drugs and violence, screams for a thorough investigation. That Alexis (like so many of the shooters before him) had been prescribed a psychiatric mind-altering drug, and was taking, Trazodone, an antidepressant with known severe adverse reactions associated with violence, may only be the tip of the iceberg.
While it is imperative to know Alexis' complete psychiatric drug history, Chairman Miller must also consider the numerous other shooting incidents which reveal the commonality – all were on or withdrawing from psychiatric drugs. The research has been available for years.
There are 22 international drug regulatory warnings on psychiatric drugs citing adverse effects such as mania, hostility, violence and even homicidal ideation.
At least 31 school shootings and/or school-related acts of violence have been committed by those taking or withdrawing from psychiatric drugs, resulting in 162 wounded and 72 killed.
Between 2004-2012, there have been 14,656 reports to the FDA's MedWatch system on psychiatric drugs causing violent side effects, including more than 1,400 cases of homicidal ideation/homicide, nearly 3,300 cases of mania and 8,200 cases of aggression.
The FDA has placed "Black Box Warnings" (the most serious warnings on prescription medications) on all antidepressants which state "increased risks of suicidal thinking and behavior, known as suicidality…"
A recent Department of Defense study reports that "studies have shown a marked increase in the incidence of diagnosed mental disorders in active-duty service members since 2005, paralleling the incidence of suicide."
Despite the known serious adverse reactions, antidepressants are the second most prescribed group of drugs in America.
And, although Chairman of the House Committee on Veterans' Affairs, Congressman Miller may be unaware of the growing psychiatric drug problem among active-duty military and veterans. For example, at least 17 percent of active-duty military personnel currently take at least one antidepressant and one in six military service members take at least one type of psychiatric drug–All of which have been documented to mania, psychosis and/or violent reactions.
As reported by the Los Angeles Times, more than 110,000 active-duty Army troops in 2011 were taking psychiatric drugs, including antidepressants, narcotics, sedatives, antipsychotics and anti-anxiety drugs. And each of the above psychiatric drugs carries its own list of possible serious adverse reactions. Not surprising, the increased number of military suicides coincides with the increased psychiatric diagnosing and "treatment."
Beyond the research, studies and private sector and governmental reports, there are numerous experts who, for years, have had the courage to speak out about the connection between psychiatric drugs and violence.
Psychiatrist, Peter Breggin, M.D., has written dozens of scientific articles and numerous professional books, including Medication Madness: The Role of Psychiatric Drugs in Cases of Violence, Suicide and Crime (2008) and is on the editorial board of several journals.
Dr. David Healy, a professor of Psychiatry in Wales, is one of three researchers who published a study in the September 2006 issue of the journal Public Library of Science Medicine that determined that SSRI antidepressants could increase the risk of violence in people taking them.
Joseph Glenmullen, a Clinical Instructor in Psychiatry at Harvard Law School Health Services, authored two books on the side effects of antidepressants: Prozac Backlash; Overcoming the Dangers of Prozac, Zoloft, Paxil, and other Antidepressants with Safe, Effective Alternatives and also The Antidepressant Withdrawal, Dependence, and "Addiction."
These and many other doctors long have understood that violent behavior, aggression, mania and suicidality may be caused by psychiatric drug "treatments" and would, no doubt, gladly share with Congress their impressive experience and research.
Chairman Miller's questioning of Alexis' psychiatric drug "treatment," and his commitment to an official inquiry, is a courageous first step in understanding the psychiatric drug epidemic ravaging the nation. It is not a moment too soon. Lives hang in the balance.
Kelly Patricia O'Meara is an award winning former investigative reporter for the Washington Times, Insight Magazine, penning dozens of articles exposing the fraud of psychiatric diagnosis and the dangers of the psychiatric drugs – including her ground-breaking 1999 cover story, Guns & Doses, exposing the link between psychiatric drugs and acts of senseless violence. She is also the author of the highly acclaimed book, Psyched Out: How Psychiatry Sells Mental Illness and Pushes Pills that Kill. Prior to working as an investigative journalist, O'Meara spent sixteen years on Capitol Hill as a congressional staffer to four Members of Congress. She holds a B.S. in Political Science from the University of Maryland.
My answer to stopping mass shootings is quite simple. A three step approach outlined below.
It may take some time to bring Congress around to seeing the light, but if we continue to expose the real reason for mass shootings and champion the real solution to stop mass shootings, we will eventually educate the entire country to understand what we have known all along.
Here is what needs to be done…
Outlaw Gun Free Zones. Stop creating Helpless Victim Zones by disarming people in public places. Such policies only encourage attack because the perpetrators know there will be no armed resistance.
Pass National Concealed Carry and encourage responsible citizens, law enforcement, and military personnel to carry a concealed weapon with them at all times and to train regularly to use their concealed weapon to defend themselves and others around them.
Immediately stop tax payer support of the psychiatric industry and their allies in the pharmaceutical industry who have falsely advertised their way into hooking 1 out of 5 Americans on psychiatric drugs, many of them children. Psychiatry and the drugs they push are the common denominator responsible for the epidemic rise in military suicides, teen suicides, depression and violence we are seeing in America today. EVERY toxicology report of every mass shooter, including the most recent Navy yard shooter reveal psych drugs as the culprit. Psychiatry does not work! Psych drugs pose much greater risk than benefit! Because psychiatry causes more harm than good, it NEEDS government funding in the form of Medicare and Medicaid to keeps it alive. Remove all tax payer supported, government funding of psychiatry with the drugs they push and you will see psychiatry quickly experience a well-deserved death.
With these three steps, taken aggressively and immediately, America will become stronger and healthier.
Of course, Obama and his anti-gun zealots knows all this.
Yet Obama and his gun grabbing cohorts continue to promote the creation of more Gun Free Zones, more legislation to disarm responsible Americans, and more tax payer support of the psychiatric industry.
This makes Obama worse than a liar. Much worse! All the families of those murdered deserve better. America deserves better.
It is time for Obama to face the truth about everything.
Here are people who are telling the truth…
http://www.cchr.org/videos/psychiatrys-prescription-for-violence.html
http://johnrlott.blogspot.com/
http://www.criminology.fsu.edu/p/faculty-gary-kleck.php
http://www.bing.com/videos/search?q=bill+whittle
What can you do to help yourself and help America?
Be part of the solution for a more sane America and forward this in its entirety to everyone you know and encourage them to do the same.
Be part of the solution to a stronger America and take advantage of our 5 Day Defensive Handgun Course, 30 State Concealed Weapon Permit and our entire set of 7 training manuals (over $2700 in total value) for only $200. Get yourself and your family trained!
That's right! Only $200. But you will need to act fast. Go here http://www.frontsight.com/patriot/ to grab a 5 Day Front Sight Course, plus 30 State Concealed Weapons Permit, and our entire set of 7 Front Sight Training Manuals for only $200. Just do it before the offer sells out!
And here is a great video we recently created so you can share it with your family and friends:
I highly recommend you view it in 720 (a selection you can make at the bottom of the video window)…so you can see all the awesome detail.
Sincerely,
Dr. Ignatius Piazza
Founder and Director
Front Sight Firearms Training Institute
http://www.frontsight.com
1.800.987.7719
Entry Filed under: Dr. Ignatius Piazza,Front Sight,Monday Blog Posts,Newsletter,second amendment.